[ezcol_1quarter]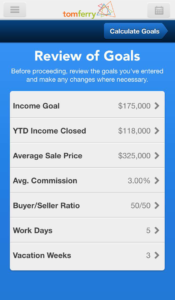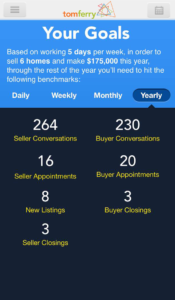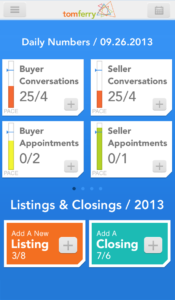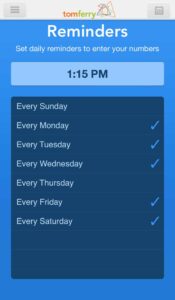 [/ezcol_1quarter]
[ezcol_3quarter_end]
---
Looking for Substantial Improvement in Your Business?
Tom Ferry's Thriving Daily App is for you!
---
We've all heard the terrific quote by Thomas S. Monson that says, "When performance is measured, performance improves. When performance is measured and reported back, the rate of improvement accelerates."  By tracking your revenue producing actions and monitoring your progress, you are guaranteed to achieve your goals faster.

The first thing the app will do is understand your unique market conditions so that it can generate a personalized activity plan for you based upon the following pieces of information:
Annual income goal

Year to date income earned

Average sales price

Average commission percentage

Average buyer to seller ratio

Work days per week

Vacation weeks per year
After you enter your goals and data, the Thriving Daily app will tell you the real estate actions you need to do daily, weekly, monthly and annually to earn the income you desire. 
Thriving Daily is intelligently designed to keep you on pace to hit your goals no matter what.  For example, if you fall behind in one of the key performance indicators, the app will update the pacing meter and actions required so you can still hit your goals!
With Tom Ferry's Thriving Daily app, you will "Make Real Money & Earn Imaginary Badges!" 
By logging your activities and playing big you can earn the Rockstar Listing Taker badge, the Ace Closer badge, the Double End MacDaddy badge and many more : )
Let's make real estate fun and put a lot of money in your pocket ­­­at the same time – Download Tom Ferry's Thriving Daily App today![/ezcol_3quarter_end]