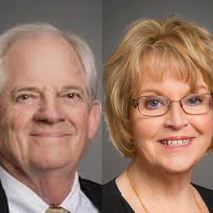 Jim & Ginger Proffitt
Realty One Group
We now have 5 team members and $324,014 GCI!
I am amazed at the number of people that attend Summit every year (and growing). I find it curious that there are so many that love the time there. The energy, association and information received and yet they don't "join up". I've wondered why that is and have come to certain conclusions. We know some of them personally and there seems to be a common thread.
They are afraid of the "accountability factor". It is so much easier to tell oneself that "I'm going to put some of these principles together one of these days and be successful." We thought the same thing. And here is reality. WE NEED A REAL HARD ASS TO BEAT US UP ON A REGULAR BASIS OR IT AIN'T GONNA HAPPEN. We have loved our coaching experience with our Coach Kay Fairchild and now, Coach Marianne Curran.
It is HARD, but we love the experience and end result. We would never have accomplished what we have accomplished. It has been a marvelous journey with all of the ups and downs associated with success. Since we have just finished up our 1st quarter results, we found an interesting comparison. last year, 1st quarter, we had the beginnings of a team and finished the quarter with $2,424,000 and 6 pending or closed…. This year 5 AWESOME team members AND $10,582,589.00 23 pending and closed. That's TWENTY-THREE ( countem…23!) DEALS! & $324,014.00 GCI.
We would NEVER be at this point without Tom Ferry's Team+ Coaching! Coach Marriane Curran says we are just starting……. WE BELIEVE!