Why Every Top Producer Attends Training Events

Reading Time: 3 mins, 32 secs
Growing up I was surrounded with the teachings of many great success coaches including Brian Tracy, Mike Vance, and Zig Ziglar, to whom I attribute much of my success to.
I learned very early in life that learning from those who have already accomplished what you strive for is the shortest and smartest path to success.
In addition to having a coach, the greatest learning opportunity available to all of us is attending live events. 
Even though I speak at training events all over the world all year long, I still find time to attend mastermind group meetings and business conferences.
My personal recommendation is to attend at least 3 training events a year.
Whether you attend one of ours or another company (of course I hope you come to ours), taking the time to focus on your development is crucial to your success.
When you're at a live event make sure to take full advantage of the time spent away from the office.
Top 5 Ways to Master a Real Estate Training Event
1. Attend all of the days and stay until the end.
2. Complete the workbook – you may think you captured all the amazing information flowing your way but 3-weeks later you'll be kicking yourself for not writing down the 7 Trends shared, or the link to the website to get the slides, or the name of the panelist sharing a story very similar to your own.
3. Network! Most events have a reception of some sort.  Heck, they all have breaks.  Use this time wisely.  Meet others from your brokerage, or your area or agents who are similar to you in other areas that you can learn from.
4. Register early to take advantage of early bird pricing and secure your seat before the event sells out.  Most of our events sell out months before they happen.  Top producers start the year knowing which events they're going to attend, they sign up right away, and secure the time in their – all in January.
5. Go in with an open mind.  If you walk into the event day 1 thinking "I wonder when they're going to say something I don't already know" you've already done yourself a dis-service.  Many times speakers cover techniques that are new and innovative and techniques that are tried and true.  The tried and true are a great reminder and may show you a different perspective of something you thought you already knew everything about.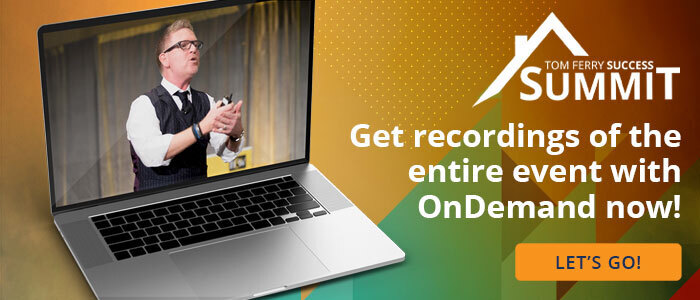 This year we are giving you even more options and opportunities to expand your knowledge as we have expanded our event lineup.
Here's what you need to know:
When your mind says "I never have time to attend training events", remember, the more you learn the more you earn.
This is something I personally live by, believe in and want to share with you.
Hope to see you at many of our events in 2016!
Be sure to come up and say hi and let me know how we can help you achieve your success goals.