5 Creative Steps for Driving Maximum Traffic to Your Open House – #TomFerryShow
Reading Time: 3 mins, 1 sec
The name of the game is lead generation and lead conversion.
April is Open House Month!
So the question is do you have a strategy in place to maximize the opportunity?
We all know that there are two ways most agents hold open houses:
1.) Hoping and praying to the real estate gods that someone shows up to your open house …
2.) The other is by holding a mega open house!
Use these 10 tips to drive tons of traffic to your open house and then convert the visitors into buyers and sellers leads.
The key is to make coming to your open house an experience for every person who walks through the door.
According to NAR's 2014 Profile of Home Buyers and Sellers open houses are a great way to find top tier prospects.
44 percent of all buyers used an open house as a source in their home search process.
Buyers with a median income between $175,000 and $199,000 are more likely to find their home through an open house compared to those in other income brackets.
Repeat buyers are more likely to find their home from an open house than first-time buyers and repeat buyers use open houses more frequently.
5 Tips to Drive Traffic and Draw Exposure to Your Open House
1. Create a short form (60 sec) video and email the video as an invitation to your database
Send this at least 48 hours before your open house
2. Create a Facebook boost or ad about the open house 
The ad gives you the ability to target your audience based on geography, income, have children, age and more!
3.  A day or two before the open house go door knocking to invite neighbors
Have a flyer to hand them that has a photo of the house and the price, introduce yourself explaining you just listed the neighbors house and you wanted to give all the neighbors the opportunity to see the house before anyone else. Watch Episode 13 of Real Success for more info.
4. Put out 20 to 30 signs
If you are limited due to vertical living put out as many as you can
5. It is always a good idea to do local company advertising to help raise awareness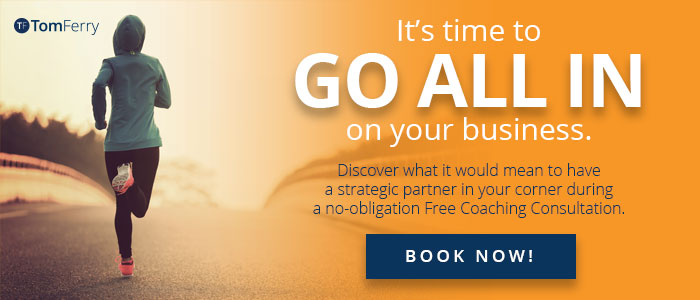 5 Questions to Maximize Buyer & Seller Leads at Your Open House
1. "How long have you been searching?"
2. "What sites do you look on?"
This helps you judge their level of desire and see how long they have been in the process.
3. "Have you found your ideal home?"
If they say no … then ask them what their ideal house is. Take out your business card and start writing down what they want.
4. "I see a lot of homes, before they hit the market, are you interested?"

5. "Do you need to sell a home to buy your next?"
Dominate the Spring Selling Season
Springtime is crucial for many agents in determining whether or not they hit their annual goals.
To give you a jump on your competition we have created the (free) Springtime Advantage package that includes these free resourcees:
* Free Coaching Consultation
* Top Producer Listing Presentation Example
* Listing Appointment Dialogues
* 19 Point Marketing Plan Example
* 10 Ways to Win Every Listing
"Our goal is to help you maximize every opportunity by providing you with the tools and guidance you need." – Tom Ferry
Get the free downloadable Springtime Advantage package today and start taking and closing more listings!
Open House Bonuses!
As we mentioned in the video (you watched it, right?) here are two examples of signage we suggest you have at every open house.
Best sign to have at the front door:

Retractable banner with iPads on the seller table for lead capture:
---