Overcome the Fear of Prospecting – #TomFerryShow
Reading Time: 1 min, 54 secs
We surveyed over 3,000 real estate professionals and discovered that when it came to agent behavior there were 5 challenges that stood out loud and clear that all agents face.
1. Prospecting Consistently
2. Time Management
3. Maintaining a Database
4. Mindset & Psychology
5. Organization
In this episode we take a deep dive into the #1 challenge and the solutions to overcoming inconsistent prospecting.
One of the most interesting stats that came out of the survey was that agents who prospect 5 or more hours a week make more than $200,000 a year.
As we dug deeper into the survey results we found that agents who only followed-up with a lead 3 times made dramatically less than the agents who followed-up 5 times. (This really shouldn't surprise you)
When it comes to inconsistent prospecting or lead follow-up there are simple changes you can make in your mindset and even environment.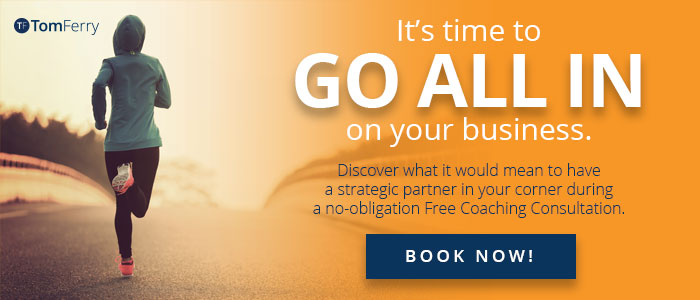 4 Simple Mindset Changes
1. Always have an active list of people to call
2. Know your scripts so the fear of "what to say" doesn't stop you from picking up the phone
3. Set-up your environment for success
4. Align your personal psychology with that of a prospecting ninja
Let's talk about your Personal Psychology for a minute…you can have all the right information, but if your psychology isn't ready to take those actions you won't get anywhere.
Your psychology is your self-talk. Practicing daily affirmations is a powerful way to automatically attract more positive, prosperous people and events into your life and increase your ability to effortlessly produce more prosperity and abundance.
The 3 Best Ways to Create an Unstoppable Psychology For Prospecting
1. Always have more reasons to prospect than reasons not to!
2. Create massive accountability to take ACTION.  You know, pain vs. pleasure.
3. Celebrate every time you do it!
For the next month I challenge you to pick one of these 3 and do it over and over and OVER again. What you will do is strengthen and condition your psychology to make prospecting a no brainer for you.
I'd love to hear how your challenge is going.  Hit me up on my Facebook page or send me a Tweet.
Ready to take your business to the next level and make 2016 your best Year ever. I encourage you to sign up for a complimentary coaching consultation to see what coaching could do for your business.