The Four Core Lead Sources Everyone is Using – #TomFerryShow
Reading Time: 1 min, 49 secs
The #1 question I get again and again is … where should I be focusing my time and money to generate business?  
In today's episode I give you the 4 CORE LEAD SOURCES all top agents focus on … and so much more!
First things first … assessing where your business is today.
Is it a Start Up? (under 5-years in real estate)

Are you solely focused on Growth? (hint: this is where all efforts must connect to)

Are you in the Cash Cow phase? (more than 10 years in the business)

Would you consider your business a Fading Winner? (an enormous amount of agents are here … crushed it with one skill set and now needs to round it out)

Does your business need Restructuring? (was focused on a niche that's no longer booming)
Here's a secret: Everything leads to GROWTH!  
The next step is to plan how your business will continue to GROW.
In order to identify the lead sources that are best for your business, ask yourself these important questions: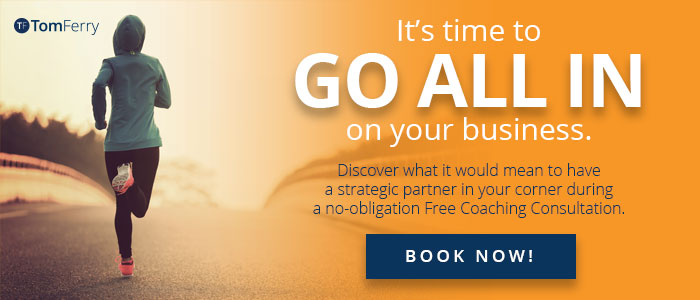 Question to Help Your Business Grow
1. What's worked best?  Where's the sweet spot where most of the business has come from (almost seamlessly)?
How can the process be better?  Is there a better offer?  Is it being marketed on multi-channels?  Can it be outsourced?  IS THERE A PLAN?  
–  Download our 2016 Business Plan
–  Download our 2016 Marketing Plan
2. How well do you know the market?  Are you looking at the hot sheets multiple times a day?
3. Do you know yourself?  What actions are you most comfortable doing?
4. Focus on the CORE FOUR!
FOUR CORE LEAD SOURCES
1. Database: Are you maximizing the use of your database?  Have you created a map of your database to quickly identify your influence in markets?
2. Geo Farm: do you have a farm? 
3. Online Marketing: 2/3 Direct Response (an immediate call-to-action) and 1/3 Branding (advertising a just sold)
4. Open Houses!  Tried and true.
If you follow these steps you will have a successful real estate business.  
When you're ready to expand your skill set and get serious about having a real estate business that you love, sign up for a complimentary coaching consultation with one of my team members.