Make 2016 the Best Year Ever – #TomFerryShow
Reading Time: 2 mins, 18 secs
Was 2015 a great year for you professionally and personally? Whether your answer is YES or no … Right now is the time to start planning for 2016 to ensure it is your best year ever.
Be sure to download my 2016 Agent Business Plan!
Work through the business plan cover to cover then schedule a planning session day for you and your team.
Here are some things to keep in mind when planning out next year.
7 Steps of High Level Planning
1. Know Your Business
Start by doing a 3 year look back on your business.  Look into every trend of your business. When you know where your business has been you can make a better prediction on where your business is going.
2. Business Forecast
Now that you know the trends of your business … declare how your business will do for the next 3 years. Right now is not the time to worry about how, just get your goals written down. This will give every action you take in 2016 more meaning.
3. Build Your Vision Statement "I am committed to…" " We believe…"
What's your mission/vision for your business? Start off with "I am committed to…"  A good mission statement will get you energized … if it doesn't you need a new one! If your statement is not meaningful you will not act on it.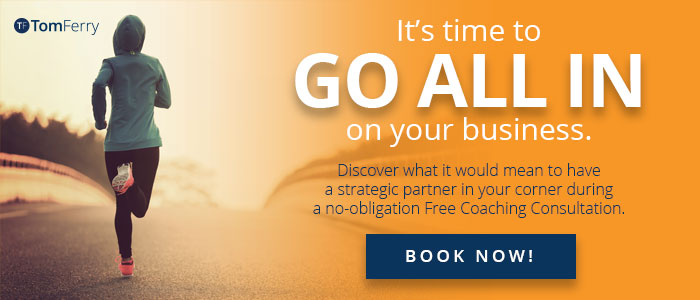 4. 2015 Lead Sources & 2016 Focus
Look at the 4 core lead generation strategies of  database, geo farm, online and open houses, then find out where you can add more lead generation strategies to expand your business.
5. Keep it Simple
What's your daily number?  How many new people do you need to talk to every workday to meet your goals? If you know and act on your daily number you will begin to build a pipeline. Whatever your daily number is take half for your database and half for new leads.  If you don't know your daily number you can figure it out with our business plan.
6. Do, Doing, Done Board
What are the key projects that will lead you to a successful 2016?  Add these to your do, doing, done board. Prioritize your projects by when they need to be completed and who will be in charge of them. Some projects will need to be done by this year in order to lead you to a prosperous 2016.
7. Know your money.
Put the right financial plan in place so that you are financially unstoppable. It's not about how much money you make … it's about how much you put save.
Need help applying these steps for a successful 2016?
Our coaches can help you close out the year strong and set you up for an ever more successful 2016.
Click HERE to request a complimentary coaching call with a Tom Ferry coaching consultant.