5 Ways to TurboCharge Your Lead Generation – #TomFerryShow
Reading Time: 2 mins, 19 secs
As most agents start to slow down … the rockstar agents are kicking their lead generation efforts into high gear.
If you want to join them then every day you need to review your goals and get into major action on the tasks needed to accomplish them.
This will show everyone, including yourself, that you have no interest in being flat broke come January!
Go to (5:28) and find out why you should stand up when making your calls
Go to (6:44) to learn how to properly prepare for lead generation
Go to (10:00) to find out the trick to take these steps to the next level
5 Ways to TurboCharge Your Lead Generation
1. Schedule It
If it is not in your schedule it does not exist. Choose a time that works for you … say 9am to 11am … if that time is not blocked out in your calendar your calls will never happen.
Tell your co-workers in the office that from 9am to 11am you are making phone calls. Ask them to join you. The more people that know the more you are held accountable.
2. Stand Up
Communication is broken down into 3 parts.
55% of your total communication is the way you move your body. Standing up makes you more confident when making phone calls.
38% is the tone of your voice. How your words sound alters a person's interpretation of what you are saying.
7% are the words that you actually use. Practice your scripts so that you can focus on your actions and tone.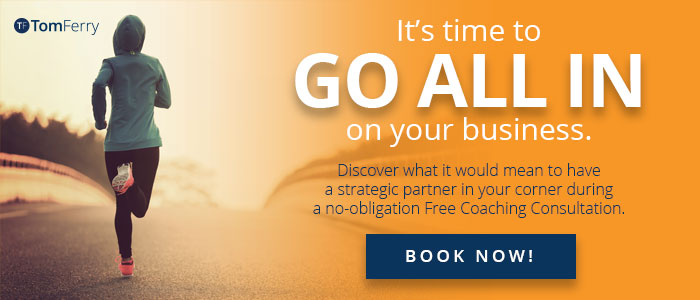 3. All the MONEY is in YOUR Prep!
The moment you say "who I should call?" … you're done.
You need to know what you have in your database, how many leads, every person who has been to an open house, every past client from the last 2 to 7 years and write down what you are doing with each.
Make a list and say "I am going to call every one of them!"
4. Don't Practice on Your Clients
Role Play! Practice with a buddy or co-worker. Practice with yourself, use a mirror or record yourself on video.
If you are thinking about what to say next, you aren't fully listening to the client. You will miss the subtleties and tonalities.
Practice your scripts so that you internalize the dialogue and can focus fully on your client.
5. Gamify
Who doesn't love a little friendly competition?
Grab a buddy or two and create a healthy competition.  Whoever books the most appointments has to buy the other person lunch.
Taking no action is really just a silent choice to be flat broke come January.
Need help applying these tools to your business? Our coaches can help you close out the year strong. Click HERE to request a complimentary coaching call with a Tom Ferry coach.