Why Most Agents Will Be Broke in January 2016 – #TomFerryShow
Reading Time: 2 mins, 9 secs
So far 2015 has been a great year for many agents and as the holidays approach many of them start to take their foot of the gas.
And because of the boom or bust nature in real estate taking your foot off the gas for a couple months could mean you have nothing in the bank come 2016.
Make sure and watch the whole video to learn the 3 steps that will guarantee a great 4th quarter and start to the New Year!
Go to (0:54) to learn the top 3 reasons why agents will be broke by January 2016.
Go to (4:24) to see how to put the mission in to play for Q4.
Go to (11:25) to find out how you could make this image  a successful Facebook Ad.
3 Steps for Having a Successful 4th Quarter
1. Set up an Aggressive Lead Generation Pipeline. October is the start of the Q4 … are you ready?
This is where most agents start to slow down … DON'T. Keep your momentum going all the way through to 2016.
For the next 20 days your goal should be that every day you have 20 conversations or 1 appointment.
By the end of month you will have 200 conversations or 20 listings!
If this feels a little aggressive or makes you feel uncomfortable… Good!
When you push yourself beyond your comfort zone that is where great opportunities lie.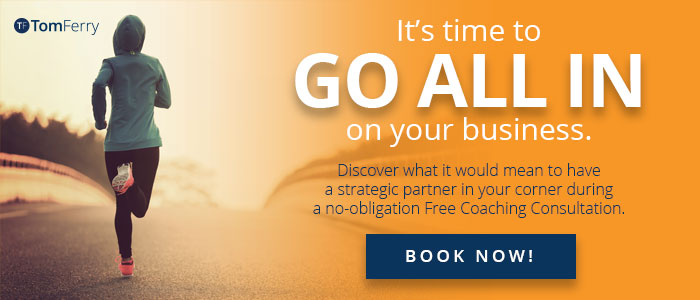 2. Declare Your Business Goals for 2016.
On January 1
st
2016 declare that your business has X amount of active listings, Y amount of pending and Z amount of GCI coming in. Where you put your focus your energy follows, if you focus on an aggressive pipeline you will be more
successful at the start of the year.
3. Build a Q4 Marketing Plan. Choose the top marketing strategies for your business that will add to your pipeline for 2016.
Create a Zestimate campaign for anyone in your database that has purchased over 2 years ago.
Send every person that is in your database a proof of success marketing piece.

Ask these 3 important questions

Have you had any thoughts?
Do you know anyone?
Do you know anyone who has tired in the past and it didn't work out?
These actions are what really separate the Rockstar agents from the average agents.  Now go pick up that phone so you can have a great holiday and an even better 2016!
Feel like your year could have been even better? It's not too late!
Our coaches can help you close out the year strong and make next year your best year ever.
Click HERE to request a complimentary coaching call with a Tom Ferry coach.