7 Real Estate Trends that will Increase your Income – #TomFerryShow
Reading Time: 2 mins, 27 secs
You're following the seasonal trends of real estate, but are you following the market trends? These Trends are constantly changing and evolving …but here are 7 trends that are affecting your business today.
Go to (4:59) to learn about the irrelevant agent.
Go to (7:09) to find out why teams are taking over.
Go to (13:29) to be the next entrepreneurial agent.
The 7 Trends in Real Estate
1. Commission Compressions: There are a lot of lazy agents today who are reducing their commission rates in order to take a listing. Don't fall in to this trap! Work on your skills and marketing to provide value to your clients. Show them you can do it better than anyone else and that the commission rate is worth your level of service.
2. The Irrelevant Agent: Today's consumers are going through extensive research online before choosing their agent. This means agents that are lazy and don't put effort towards their business are going to be pushed out of the real estate profession. Make sure you continue to hone and expand your skill sets to become the best agent for the modern consumer.
3. Total Team Domination: Teams are out producing individuals at rapid rates and these rates are continuing to sky rocket. The goal of having a team to build proprietary systems that allows you to have a work life balance.
4. Teams for Sale: This is a big trend, that going to turn teams in to massively high producing, profitable, customer service based businesses. Eventually, teams are going to be sold just like independents used to be were acquired. Use these 10 tips to build a powerful team.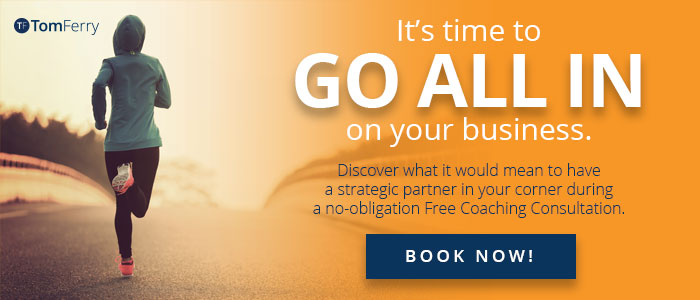 5. Big Whale Hunting:
What I mean by this is building relationships with investors, builders and developers to give yourself a steady stream of business. This is no different from the REO days. Another strategy for big whale hunting is to go back to your clients that bought in 2011. Now is the time that they are starting to expand their families and are ready to move into bigger homes.
6. The Rise of the Entrepreneur Agent: The mistake most agents are making is they find a deal or opportunity and they immediately drop it in the MLS. Nowadays smart agents are not just working for commissions. These entrepreneurial agents are buying properties themselves or selling them to an investor and make more on the back end with new listings and bigger prices.
7. SUPER YOU!: That's right YOU are the hottest trend! By watching these videos, meeting with your coach, training, putting the customer first and running a business by deign makes you the hottest trend in real estate. Putting yourself head of the curve, standing out in front of the competition and providing value to your clients is what it's all about.
Do you need help implementing these tips? Our coaches can help! Click HERE now to schedule a complimentary coaching call with a Tom Ferry coach.