Are You Tough Enough For Real Estate? – #TomFerryShow
Reading Time: 1 min, 33 secs
Are you cut out for real estate? Do you have what it takes to make it in this competitive industry? When you feel like giving up, don't be a quitter! Use these tip to build a powerful mindset and succeed in real estate!
Go to (2:19) for tips on how you should start your morning powerfully
Go to (4:52) to hear why exercise and nutrition are so important
Go to (8:31) for recommendation on how to improve your mental toughness
3 Tips to be Mentally Tough
1. Start Your Morning Right. When you wake up, don't be tempted to hit to snooze button (remember 2 #TomFerryShow ago? Snoozer = Loser) Start your morning with a breathing exercise. Get oxygen into your body – inhale the good and exhale the bad. As you are breathing, focus on 5-10 things you are grateful for. Then choose your top 3 goals and visualize yourself accomplishing them.
2. Your Body Is A Temple. If you don't move it, you lose it! Get your body moving whether it's at the gym, outside, or the comfort of your own home. Also remember to get hydrated. And lastly, be sure to fuel your body with proper nutrients. It's really important to have a well balanced diet.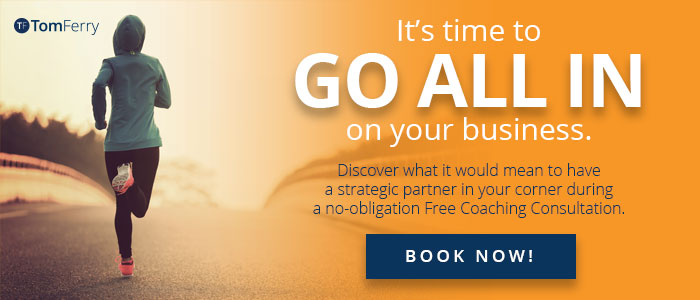 3. Feed Your Unconscious. To quote Napoleon Hill "Whatever the mind can conceive and believe, it can achieve!" If you feed your unconscious mind with negative thoughts, it will come through to your conscious mind and ultimately in your actions. So make sure to always think positively.
***Bonus Tips. Once you've mastered the tips above, here are some additional tips you  can implement into your day!
Read 10 pages
Listen to educational/informative podcasts during your commute
Watch self improvements/educational business videos on YouTube
Do you need help implementing these tips? Our coaches can help! Click HERE now to schedule a complimentary coaching call with a Tom Ferry coach.