8 Signs It's Time To Grow Your Real Estate Team – #TomFerryShow
Reading Time: 1 min, 11 secs
Have you ever wondered what it would be like to go from a solo agent to a team? Or what about adding one more person to your existing team? Here are 8 signs that you are ready to grow your real estate business and tips to making the right hires!
Go to (1:22) to know the 8 signs it's time for you to grow your team
Go to (7:18) to determine who you need to hire first
Go to (10:47) for my recommendations on how to grow your team
Go to (13:32) to decide if you need to hire an artist or operator
Watch the video and follow the checklist below to see if growing your real estate business is right for you.
8 Signs That It's Time To Grow Your Team
1. Income has plateaued
2. Consistently missing sales or listing goals
3. No free time or running too fast
4. Cracks in the system
5. Not enough lead gen sources
6. 9+ hours of work (working late every night)
7. Becoming tired or uninspired
8. Missing quality of life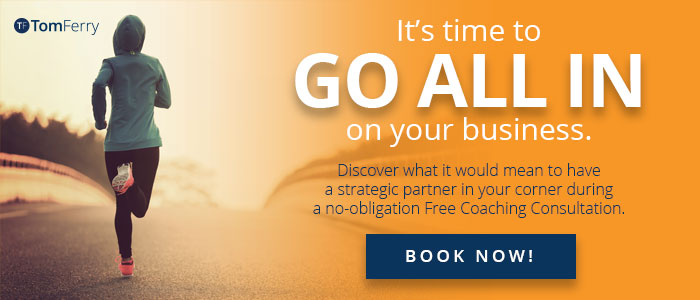 Top 6 Positions Being Hired Right Now
Buyer/Sales Agent
Transaction Coordinator
Listing Coordinator
Marketing Coordinator
Operations Manager
Outbound or Inbound Sales Agent
Recommendations
1. Decide the outcome you want. Do you want to save time or make more money?
2. Create a job description
3. Create a compensation plan
4. Hire right. Do you need an artist or operator?
Click here for the Assistant Mind Map to see what an assistant can do for you