How to Get More Referrals Straight From Your Database | #TomFerryShow Episode 5
Reading Time: 6 mins, 26 secs
Are you casting a large enough net? Specifically with your database to get more referrals from the people that you already know. If you want more referrals in 2015, it all comes down to the data.
Here's what I know, the average consumer moves every seven to ten years. So, if you have 100 people inside my database, you should be getting seven to ten listings every year. If you're not getting 7-10% of the total number of people inside your database to interact, engage, or list their home with you, there's a pretty good chance that you're not casting a large enough net and you're not touching them in a relevant way.
So, let's take a look at some of the different mediums and channels of distribution that you could use today to cast a larger net and touch more people.
Phone Calls
Agents love making phone calls, but here's the deal–if you're making phone calls to your database, two out of ten answers the phone. That's the game today. We're much more inclined to respond in a different way. It doesn't mean don't call your database, it's still 20%.
Email
If you're an email ninja, you're getting a 17%. But that doesn't mean 17% of people actually respond to your emails, just they opened it up–you might get 2-5% response rate, which isn't bad when you are sending to thousands of people.
Facebook Private Message
Our studies have shown that Facebook private messages get 50-70% response. It's relatively new and sales people haven't overly spammed it. When you send a private message, you want to do ME mail. For example: "Hey Marni, what a great photo of you and your kids on Facebook." It has to be personal to work effectively.
Text Message
We all know, text messages get 95% response rate in under five minutes. Like the Facebook private messages, we're going to ruin that eventually. But today we still get a 95% response and working really well.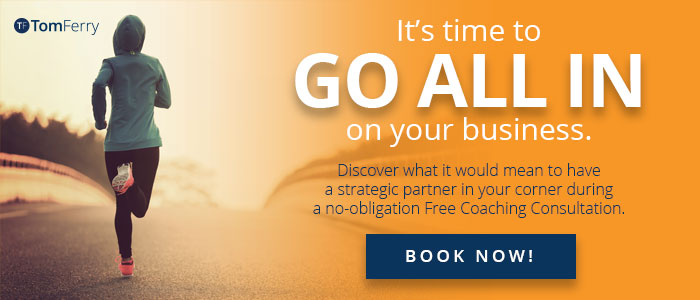 Direct Mail
Yes actually putting stuff in the mail, you can get a 3-5% response which is phenomenal today. Here's a mailer that's getting a lot of responses–go to Zillow and type in your clients' address. Print out the Zestimate page and highlight the amount. Then do a hand-written note: "Dear (name), I know your home is worth more than (Zestimate amount). Want to know your home's real value as of today? Call, text or email." You can mail it or slide it under their door. Our coaching clients are saying they are getting one out of five people calling them because everybody wants to challenge the value of their home.
Facebook Ads
You know 1%, 2%, 3%, it's a digital ad play. It's certainly better than Google. So, we know that that's available and we know that all of your customers are there.
Video
It's a big channel, it's a great way to get the word out. I know the hang up for most people, is if I do a video, what if no one watches. And the only thing I would tell you is this. Who cares how many people watch it? You just want the right one to see your message.
Instagram
The big demographic of growing people on Instagram is people our age. They're saying "This is kind of cool. My kids are on it, but I like this stuff." So, you need to pay attention to Instagram, but what you want to focus on now, is just migrating all the people that you know, email, direct mail, in your community. Just ask them, are you in Instagram, if so, follow me here.
I don't romanticize about anything. There's multiple channels, a ways to reach out and connect with people. There's no wrong way to do it. The mistake that we're making is not casting a large enough net. My point to you is, look at all these different ways that you can reach out and engage with people. That you can reach out and touch people. The mistake that we're making today is, we all want more referrals, but we're not paying attention to help consumers ore behaving and consuming data and content today.
Here are some recommendations for you. Number one is do you have database integrity? In your phone, do you have a Bob at 310-555-1212. You don't know what Bob's last name is. You don't know where he lives. You don't know anything about him, but you have his cell phone number somehow. Use Intelius.com or any other company to help you fill in the gaps. Use the information you have and now you know Bob is Robert Jones and here's all of his contact information, which means my data base has more integrity.
Number two, create a monthly plan. Remember overwhelmed by definition is under planned. If you're feeling overwhelmed, as I'm going through all these different channels of distribution. What you do, is you sit down for a couple of hours and you say "Okay, got 345 people inside my database, how many ways shall I touch them." Do two emails and one direct mail piece a month. Send three text messages a day. Do 50 Zestimate door drops a month. One daily Instagram post, etc, etc, etc.
Number three, graph your data base. Take all the addresses in your database and plug them into Google Maps. And what you're going to see is where the people you know live and now you can concentrate on marketing in those areas where the clusters are. So if you get a listing appointment in community X and you know seven people in the area, you're probably going to use that information on your appointment. It's a powerful thing, to know where your customers are and what they're doing.
Number four, Facebook custom and look alike audiences. So, think about this. You've got your 345 friends on Facebook and you're running ads to them. They're responding to you and you're sending them private messages. You're bringing them value and talking about what they want to know most, which is the value of their home. Now consider this, Facebook also allows you to create a look alike audience. And what that means, is you take your 345 people and Facebook says "Here's another 10,000 people that look and behave just like the people inside your data base. Now what do we know? People want to work with people that are just like them. The assumption is that the look alike audience will give you people that have the same behavioral science. They're into the same things. And do you know what it does? It just makes easier for them to say yes to you.
Number five, which is the most important one. If we're going to do all these different campaigns you want to drive your leads to a seller landing page so you can capture their information. . If you don't have today, some kind of seller landing page that allows the customer to go to the page, type in their address and get an evaluation, you're missing a huge opportunity. Now, there's lots of them out there. Most of them are two step formula, but check out this sample seller landing page my team has created that has a three step to capture more data in an elegant way www.tomferryevent.com We created this landing page as a sample to give consumers a low, medium and high price of their home, and an E appraisal as well as a Zillow Zestimate. With five different prices, it means they need you to make sense of it all.
So, thanks so much for watching. Remember always, your strategy matters and now more than ever. The wider the net you cast, the better.