Setting 270 Appointments in a Year – REal Success Episode 23
Reading Time: 2 mins, 35 secs
Here's what's interesting about the human mind…
We set our own barriers to success.
In this episode of REal Success, you'll learn what is REALLY possible in real estate.
James Suarez is living proof of what is possible – he set an appointment every single day … for an entire year straight!
Can YOU imagine what your business would look like if you had a DAILY appointment?
It's time for you to think bigger and act bigger.
Humble Beginnings to Big Numbers
James was inspired to get into real estate while he was working as a busboy at a local Islands Restaurant.
While cleaning tables, he would notice the nice suits and cars that agents owned. One day, he worked up the courage to approach one and ask about entering the business.
The rest … as they say … is history.
Last year, James and his team sold $60 million in volume and are on track this year to reach upwards of $100 million.
The "Appointment a Day" Bet
After attending Summit, James made an aggressive bet with Tom.
James bet that he could set an appointment every working day out of the year…
Tom shook on it, and said that if he didn't achieve it, he'd have to leave coaching (talk about accountability!).
It was at that moment that James made a COMMITMENT to achieving this goal.
There's a big difference between being interested, and being committed.
A year later … James had exceeded his goal.
What did he do on a daily basis to mentally prepare for this goal?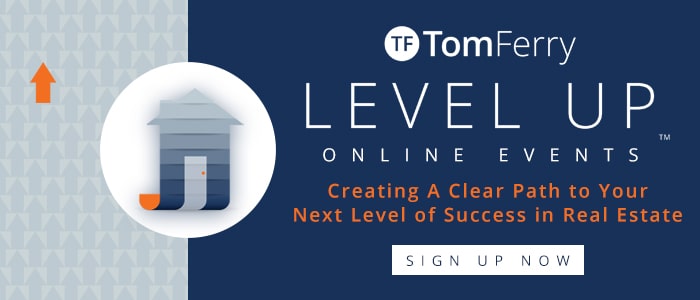 James's 5 Step Morning Routine for Achieving Goals
1. Affirmations in Bed
These are so important to combat those natural negative thoughts.
2. Service & Meditation
Serving his wife by making coffee/breakfast and connecting spiritually is a key part of a positive day.
3. Connect With "My Why"
4. Workout
5. In the Office
Set the intentions before starting the daily tasks.
Pushing Past Your Comfort Zone
James admits that it's not always easy.
He shares that there were plenty of days when he didn't want to go out door-knocking … or worse, there were plenty of times he had the door slammed in his face.
But thinking of his WHY propelled him forward.
Practicing his scripts and dialogues gave him the CONFIDENCE necessary to continue on.
But the "drunk monkey" is always on your shoulder!
That's why it's so crucial to always be pushing past your comfort zone.
Tips on Overcoming Failure
James shares that in order to move past the bad days in Real Estate, you have to look at the bigger picture.
Deals WILL fall apart, it happens!
You can't let the previous failed deal affect the next 2, 3, or 4 deals.
Brush your shoulders off and get right back out there.
Game On
Between now and the end of the year…
Why not YOU?
If James can set an appointment a day … why not you?
Challenge yourself to get out of your comfort zone and set a big hairy scary goal.
Click here to see how coaching can help you achieve your goals.