Creating A Winning Team Culture | REal Success Episode 18
Reading Time: 3 mins, 30 secs
What do all of the top companies right now have in common?
Companies like Google, Nextflix, Amazon, Apple, Zappos and more.
They have all learned how to foster a winning company culture.
As the trend of teams in real estate gains more traction it's more important than ever to create a winning culture in your real estate business!
In this episode of REal Success Bill Pipes interviews one of our top coaching clients about his process for finding the right people, onboarding, training and empowering!
If you want to learn more about building teams you should check out #TomFerryShow Episode 61
Eric Crumbaker is a Tom Ferry – Your Coach coaching client from Claremont, CA.
He has been in the real estate business for 6 years with a family team that has been in the industry for 30 years!
In 2015 he sold 93 homes.
In 2016 he is concentrating on growing the company and the culture to outperform him and close 215 transactions!
At all of Erich past jobs he always found that there was a glass ceiling placed above him on his potential and his earnings.
That's why culture is a mission critical project for Eric.
Now that he's building his own team he never wants his employees to feel that way.
Eric is focused on supporting and empowering his employees – because where there is no fear there is no ceiling. 
The process of team building hasn't always been easy and he's made plenty of mistakes.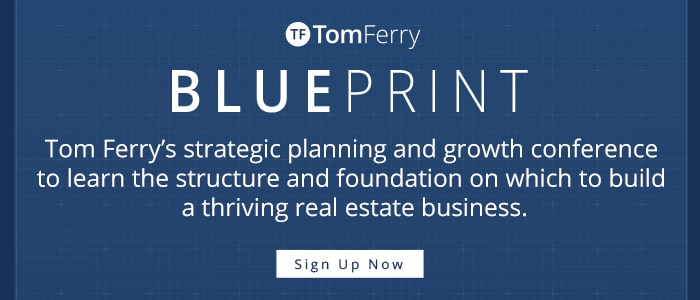 Here are his tips on team building with a winning culture.
Finding the Right People
Eric is constantly refining the hiring process as the company grows.
Learning not to get caught up in hiring only A talent has also been a big revelation.
But rather hire B & C talent, give them the proper training, treat them like they are A's and watch them blossom!
The strongest people on Eric's team have actually been the referrals from other employees.
And rather than trying to simply fill spots, he tries to fill the spots with the right people.
As part of the process every candidate takes a DISC Assessment and meets with the entire team in a social environment to discover if it's the right fit.

The entire team is given the opportunity to share their input about the candidate as a member of the team.
Creating Your Company Culture
ONBOARDING
Eric walks every new employee through the real estate process from start to finish.
New agents work as ISA's as they are getting their license to help them learn the industry.
This helps to set them up for success, once they get their license they can hit the ground running.
HAVE A SET ROUTINE
Every day Eric's team is scheduled to show up at 8:30 … but because of the company culture the team actually shows up at 8am!
1.) Every day starts with affirmations and mission statements. This helps bring everyone together as a group.
2.) Then they go into scripting and role playing.
3.) After getting fired up and refining their sales skills they are ready to go into phone calls.
4.) After that the rest of the day is spent on productive activities.
BELIEVE, SUPPORT, EMPOWER!
This is the most important part.
What really matters in the end is hard work and dedication.
Never stop believing in and caring for your employees.
The moment you do so, is the moment they start to resent you and the company.
"As long as they want it I believe in them." – Eric Crumbaker
You and your team will only go so far as the culture you have created for them allows you to go.
So take these lessons and tips and decide how you are going to implement them immediately before the inspiration wears off!
If you'd like to attend an event with Bill Pipes and learn how to become a sales ninja (or sales jedi if you prefer) then check out our Sales Edge event.
Thinking about starting your own team?
We encourage you to sign up for a complimentary coaching consultation to find out how our coaching programs can help you accomplish your goals!
Running a team already but know it can do even better?