The Fundamentals & Routine for a Winning Real Estate Career | REal Success Episode 4
Reading Time: 8 mins, 53 secs
Tweet it out: "Success is the natural consequence of consistently and routinely applying basic fundamentals" @TomFerry
We have another great episode of REal Success presented by Bill Pipes! In this episode, Bill interviews Tim Smith of Orange County, CA. Some of Tim's accomplishments include: top 1% of all agent in the nation, #14 in the world for Coldwell Banker, #16 in the nation for teams according the the Wall Street Journal, and #2 team in Orange Country, CA. So let's just dive right in.
Bill Pipes: Tim, you have been through ups and downs, highs and lows, but in the end skyrocketed to the top! People look at you and they go, "Oh, he must have some kind of secret." And they are right, it comes down to a few key things. So Tim, share with us your journey to this point in your career.
Tim Smith: I've always been an above average salesperson, but when I decided to really make a career of out my real estate business, I had some breakdown moments. This lead me to Tom in 2008 when I started coaching and this was when my career really took off. Ever since we started working together, we focused on how to get to a certain level of production by precise design, execution and a little bit of the enabling power of the universe. And that's a big process, drawing a lot from the book 'Think and Grow Rich' by Napoleon Hill–highly recommend you read this book every year to pull inspiration and get back to the basics.
And over the last seven or eight years, as you start growing, adding team members, understanding where you're trying to go and understanding your numbers–it's just the fundamentals of appointments, contracts and getting back to the basics. For example: if I want to make $3 million this year, I need to know how much to produce in volume, listing appointments, buyer appointments, and what my team needs to look like to get me there. It's really that simple. 

BP: Was it a natural move for you to build a team for the production you wanted to make? What is your structure like? What does it mean to be on The Smith Group? And what are some of those expectations and standards that you have for them?
TS: Yes, building a team was a natural step for me. At first, I took anybody that wanted to be a part of my team. But now, as we continue to grow, I've become more selective, hiring people right for the job and right for the company dynamic. I don't expect my agents to do anything that I'm not doing. And it's not just about the production, it's also the daily routine–the building blocks that create results. I feel very lucky to have a team in which we have a culture, where people want to be together, mixed in with some healthy competitive tension.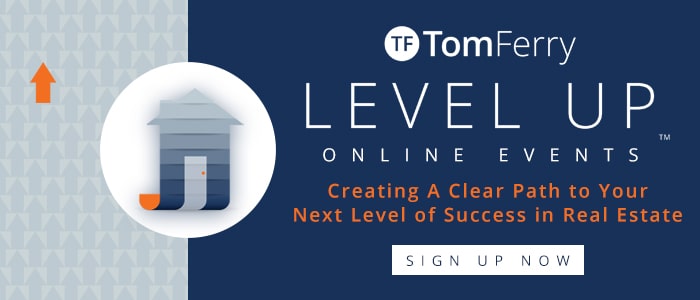 BP: I love that statement you just said: "I can't create an expectation for anyone on my team that I'm not doing myself." I notice that there are two types of leaders in the world, leaders that sit back and say, "go do this" and leaders that are working alongside everyone that pulls the team forward. That is such a great perspective to have. Walk us through how do you create that?
TS: Life has a way of breaking us down. And what I found for me, and what I'm starting to find that's consistent among all great agents, is committing to your daily routine. The great thing is that anyone can do it. I like to think of doing my daily routine as "putting my armor on." And this is how it goes, every night, I plan what I need to do the follow day. It takes 15 to 30 minutes to write my list. I go through my CRM and plan how I'm going to get my appointments and contracts for the day. This serves as my fundamental building block and has proven more important and useful this year than any years past. This year has been much more of a grind than last year. Last year was such a good year. We were making money so easily, and it was one of those things I wasn't used to. It was just an incredible thing. Well, this year, it's back to a grind… over inspections, deals falling out of escrow and we're really grinding to get to our numbers. Our goal was 400 million and we are going to push with new affirmations, new daily routine, new planning and pressing forward. It's not easy, but what I know is if I do my part, I can expect the results.
BP: Now talk to me about fundamentals: what are you working on to position yourself for 2015 and what's going to make the difference for you to have a breakthrough year?
TS: When you start getting clearer on your business, you find out how important knowing your numbers is. It's very easy, if I want to do this much in production, I need to know my average purchase price, the number of listings I need to sell, the number of appointments to get a listing, the number of conversations to get get an appointment, etc. It's all about the numbers and it's so easy to engineer these numbers, but not everyone is willing to do it. For me, the difference between the successful and the rest is the successful are not comfortable with doing these things, they're willing to do these thing while the rest aren't. And when you can get comfortable doing those things, the blocking and tackling, the appointments and contracts, the prospecting, then and only then will you succeed. I can't emphasize enough that it's that easy and simple. It's like the better you get out, the more eloquent it becomes. So it's one of those things where it's just getting up to bat, increasing the frequency of those opportunities to get the results.
BP: So, hypothetically I join The Smith Group. What advice would you give me to make the production I want to make? 
TS: I would just pretty much rephrase what I just said. We would take your goal and reverse engineer that. If your batting average for listing appointments to converting the listings taken is 60%, for every 10 listings, you're going to take six, for every six listings, you're going to sell four. When we figure out your numbers, I'm not going to be holding your hand. I'm literally going be in the trenches aside of you working on my numbers. If you're not getting your numbers, I'm not going to grind you. It's up to you. I will empower you and support you, but I'm not going to do it for you. At the end of the day, you worked for where you're going to be. You've chosen to be there. So, the only one you can look at is yourself if you're not getting the results. And when you get really clear on taking one hundred percent responsibility for where you are today, that's the only way you can improve. If funny you asked this question because a lot of agents come up to me asking for advice and they have no clue what their numbers are. I know how many listing appointments I've been on this year. I know exactly how much I've closed, pending, in escrow, what my team is doing. This is something every agent should know and do.
BP: Where does most of your business come from?
TS: Number one source of business is my sphere of influence. Number two is past clients. Number three is my geographic farm. And number four is direct mail marketing. The interesting thing that I've discovered is the best business for all agents is either your sphere or your past clients, but it's probably where most agents nurture the least. We spend more time chasing strangers than we do nurturing the ones that are our best business sources. Something my admin team helps me with is getting me to the golf course, charity events, places to connect with those people that are more of the people that are going to do business with me.
BP: That's a great point. We need to pay more attention our sphere and past clients for repeat business. Last question, a hypothetical one–suppose I'm an agent that wants to break into the luxury market, what advice would you give me?
TS: This is perfect question for me because I grew up with no high end relationships, so I had to build mine.
Step one, you need to be an expert. You need to know your data. You need to know who's buying houses, what they are buying. You need to know the houses they are buying, and property that isn't on the market. You need to know everything about this houses and people living in them, because the people living in and looking to live in the luxury market will know it better than you do, and they'll size you up in 30 seconds. But once you know your stuff, you'll see how easy it is because you'll be able to tell them things about their specific neighborhood–who's buying and who's selling. So there is no substitute for information and knowledge. What's great about Zillow, Redfin and Trulia are the public records–all that information is available. Pull the grantees. Figure it out.
Early in my career, I used to sit at open houses three, four or five times a week at the most expensive houses I could. And when people would come in, I would know everything about them because they are the neighbors. And I would talk about the William's who live next door or the Johnson's who lived up the street as if I knew them. I never met them before, and all that information sounds a little creepy, but the truth is if you want to attract those people, you have to have the knowledge.
Step two and probably the most important thing is we all know that what sells homes–90% of homes sell because of price and the MLS. But we have all these different marketing tools and techniques that we can do. Whether it be property films, virtual tours, story book, etc. There's all of these different tools we have that don't necessarily bring luxury buyers, but they do sell the luxury sellers. So, understanding that marketing done effectively makes selling superfluous and helps you to understand spending money on things that are going to sell this type of person.