Bill Pipes Guest Blog: 7 Life Lessons I Learned Climbing Aconcagua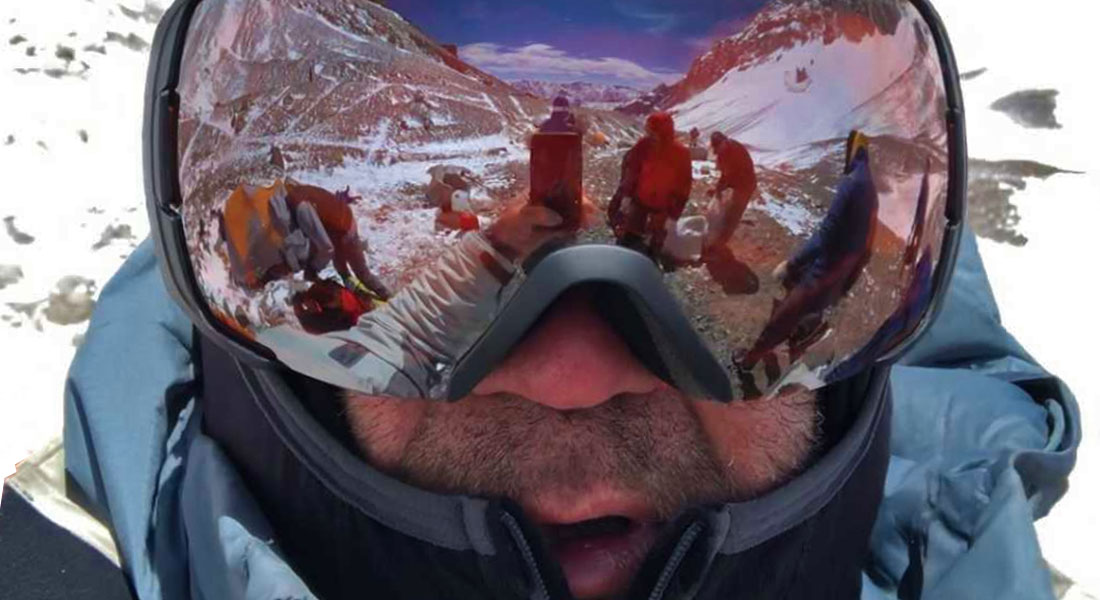 Reading Time: 9 mins, 7 secs
Editor's Note: My buddy Bill Pipes is more than our master sales trainer and presenter of Sales Edge. He's an adventurer always pushing himself to conquer new goals, and he recently experienced one of the most harrowing adventures of his life. Along the way, he learned some amazing lessons for life and business. I asked him to present these to our coaching members a couple weeks ago, and today, I've invited him to share these lessons with you in this guest blog. -Tom
By Bill Pipes
We're often told "It's the journey, not the destination."
I have a deeper understanding of that phrase after my quest to conquer Aconcagua, the highest peak in both the Southern and Western Hemispheres. It's part of the Andes mountains and known to many climbers as "Mini Everest," rising to a pinnacle of 22,421 feet above Mendoza, Argentina.
My trip took place in January after many months of planning and preparation.
All told, it was a 24-day journey.
Make that a humbling 24-day journey.
But also a very fruitful one in terms of life lessons learned.
Full disclosure: I didn't make it to the top of Aconcagua. In fact, only two of the 10 people in my group reached the summit.
Still, I consider it the greatest success in my life where I didn't actually reach my goal.
And I came back with seven extremely valuable lessons to share with you that I believe can make a major difference in both your life and your business.
Lesson 1: Never Underestimate Your Challenge
For context, it's important to know that I climbed Kilimanjaro several years ago. At 19,341 feet, it stands approximately 14 percent shorter than Aconcagua.
To be generous, I expected Aconcagua to be 20-30 percent more difficult than Kilimanjaro.
But I quickly learned that with wildly important goals (WIGs), the goal you set will be harder to accomplish than you ever imagined.
In reality, Aconcagua was twice as difficult as Kilimanjaro.
I ended up making it to High Camp at an elevation of 19,736 feet. On the morning of the hike toward the summit, I didn't have it in me. I was only 3,000 feet from the goal, but I stopped.
I realized big goals require a massive change within you, including sacrifices you have to make that will challenge you.
I knew it would be difficult. I had prepared by doing local climbs, watching YouTube videos, talking to the guide company who would be leading our expedition and more.
Yet I still underestimated what it would take.
When you set a WIG, it'll demand more of you than you ever imagined. If you know that going in, you can commit yourself to that idea and prepare yourself better than I did.
Lesson 2: Triple-Down on Training
When you fully grasp lesson one, lesson two becomes crystal clear: When pursuing a WIG, you must train two to three times more than you believe is necessary.
I trained 20-30 percent more than I did for Kilimanjaro. And I ended up reaching about the same elevation.
In hindsight, I know had I trained harder, I would have been better mentally and physically prepared for the challenges we faced – bitter cold conditions, a blizzard that left a foot of powdery snow that made hiking infinitely more difficult, the mind-testing rigmarole of repeatedly climbing up and back down the mountain again on "carry days" and "haul days"… just to name a few.
I now know this: I can never be too prepared.
Applying this lesson to your business, I'm curious… What do you need to double or triple down on? Your calls? Role playing? Your mental outlook? Being prepared for the day the moment you wake up? Let me know in the comments below.
Lesson 3: Without Mental Toughness, Adversity Will Kill You (or Your Goal)
The experience of climbing Aconcagua is something I will never forget. It was a mix of inspiring, fun, miserable and the hardest thing I've ever done. I know this, though: I came out a better person than I was before that trip.
I'm not gonna lie. It was the scariest thing I've experienced as an adult. There were points that I thought we might all die.
When I look back, I know there are ways I could have avoided or minimized that fear.
Here's the thing: Along every journey, whether you're climbing a 22,000-foot peak or pursuing a goal of selling 200 homes in a calendar year, you're going to face adversity.
Some of it will be little bumps in the road.
And some of it will jump up and attack you like nothing you've experienced before.
Some of it you'll expect.
And some of it you'll never see coming.
What I learned on this journey is that the more time and effort you put into building your skills and your mental state, the easier it becomes to overcome adversity.
How do you overcome obstacles in your business?
Having returned safely from Aconcagua, I'd advise you to team up with someone who's already done it. Get that critical intel from those who have gone ahead of you and returned to talk about it. Ask them questions like "What forms of adversity will I encounter that I have not thought about?"
Lesson 4: Border on Obsession
Let me backtrack for a second to explain my mindset heading into when I climbed Kilimanjaro several years ago.
At that time, my family life wasn't in the best place. Things were rocky and headed toward potential disaster.
I told myself that reaching the pinnacle of Kilimanjaro would instill in me the power to return as a better leader within my family. In essence, it would save my family unit.
Because so much was at stake, reaching the pinnacle became my non-negotiable "Why."
It motivated me to keep putting one foot in front of the other until I reached that peak.
And yes, things improved and my family life is now better than ever.
Now let's compare that with this trip to Aconcagua.
The goal here was to have a great experience with a fun group of guys.
See the difference?
Here's the lesson: To achieve a wildly important goal, you must have a burning "Why" that borders on obsession.
It reminds me of a fantastic quote Darren Hardy shared with me and Tom over dinner one night: "Anyone can do the things they want to do on the days they want to do it. The most successful people do the things they don't want to do on the days they don't want to do it."
When you have that burning desire to achieve your goal that borders on obsession, you don't quit until you reach that pinnacle. You keep taking action regardless of circumstances.
My problem was the goal I'd set – a great experience with a fun group of guys – was accomplished after the first week or so!
Had I set a bigger goal and put more on the line, I know those last 3,000 feet wouldn't have seemed so daunting.
Lesson 5: There Will Be Casualties
The other guys on this trip were all amazing people. It was an insanely great group and perfect for our objective of creating a great experience.
That's not to say there weren't casualties.
One guy experienced massive altitude sickness between Camp 1 and Camp 2. Another one started coughing up blood. They both needed to get off the mountain for their own safety and health.
I cried that day. For two reasons:
One, I hated to see them go, but they had no choice. Their lives were on the line.
Two, I knew it created a vulnerability for our entire group. The departure of those two team members opened a virtual "exit door" in our minds.
I now see that the people you have around you will either add to your commitment or lessen it. Had we all been together pushing, there would have been a higher probability we all reached the summit.
I'm not blaming anyone for my failure.
But I did learn that in order to reach a WIG, sometimes you need to surround yourself with people who are two to three times better than you.
Are you doing that in your business?
Lesson 6: You're Only as Good as Your Weakest Skill
You'll never hear me underestimate the value of a powerful mindset.
But this trip taught me there's something equally important when striving to achieve a WIG: Your skills.
You see, before the trip, I'd done my affirmations. I was in the right mindset. I'd spent 365 days visualizing us reaching the top of Aconcagua and looking down at how far we'd come.
If only my body had been as strong.
If you don't build your skills and you rely too much on mindset, your skills are like spokes on a wheel that are out of balance. They just keep getting ground down until they reach the lowest common variable.
I think a lot about the morning at High Camp when we were supposed to embark on the hike to the Summit. Had I been more physically prepared, had my skills been stronger, it would have been a lot easier for my body to negotiate with my mind and say, "Yes, we can do this."
What I ultimately took away is this lesson: The more you build your skills, the easier it becomes to maintain a powerful mindset.
Without those skills, your Drunk Monkey can easily get out of control. You start doubting yourself and you get in your head.
Where does this apply to you in your business? What deficiencies in your skill set are holding you back from fulfilling your potential?
Lesson 7: Look for Lessons in the Journey
Whether or not you reach your goal, every pursuit of a WIG has lessons to teach you.
The question is… Will you listen? Or will you just get angry you fell short?
Personally, I would have loved to summit Aconcagua.
But there were six or seven spots where one slip of the foot would have meant a 3,000 foot freefall to your death.
I had to ask myself: What's more important, a feather in my cap or my family?
Even though I stopped short of the ultimate goal, I learned so much about life, business, the world and myself on this journey.
At the conclusion of any big initiative, always take the time and effort to step back and ask yourself what you learned, what you could have done differently, and what you'll do with that knowledge next time.
Speaking of… I've already made my plans to return to Aconcagua in 2021.
Knowing what I know now, I'm more confident than ever I'll reach the pinnacle.