4 Steps to Absolutely Crush Your Marketing

Reading Time: 2 mins, 21 secs
Have you reviewed your marketing plan lately?
Which channel is giving you the most leads?
Is there a lead generation source that you should be pursuing?
Are you testing your copy & creative?
There is always something new and innovating to try in the world of marketing.
But how do you know if its right for you?
Here's the thing … I know most of you can do so much more if you just got out of your own way.
That's why I want to go back to the basics of how to make sure your marketing is always top notch.
4 Steps To Rapidly Improve Your Marketing
1. Follow the Natural Path
In the past you'd send out a mailer and people would call you.
It was basic Stimulus –> Response
Which is what you want, right?
But it's not that simple today because of Google and reviews.
When you send out a mailer or doorknock or run a Facebook post or buy online leads the first thing people are going to do is … Google You!
So the new formula is Stimulus + Research –> Response
So make sure that your online reputation, website and reviews are all in order.
Because if they aren't you'll never get a response!
Is your social proof piece on your website and does it have reviews and testimonials from past clients/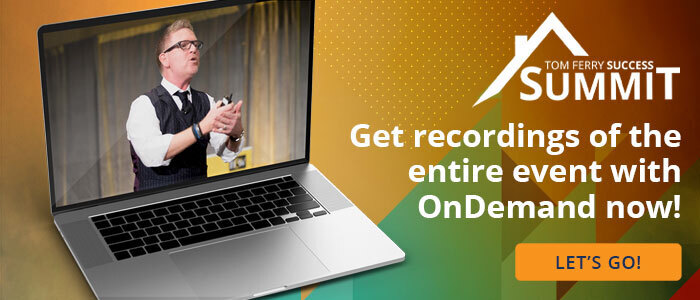 2. Always use a Multi Channel Approach 
Watch this #TomFerryShow for a deep dive on the topic.
Be relevant with your past clients, sphere and future clients.
The agents that are doing the best are touching their clients through a wide variety of channels.
– Texting – Email – Phone – Facebook Messages – Display Ads – Search Ads – Direct Mail –
Each channel gives you a certain result … why would you limit yourself by putting all your eggs in one basket?
3. ABC ( Always Be Testing) 
It doesn't matter what you think works best for you marketing piece.
What matters is which marketing pieces gets you the best results. 
You should always be improving your marketing pieces based off of the results of your test.
Sending an email? Try two different subject lines. Sending a mailer? Try two different versions of the Call To Action. Making an online ad? Test the imagery.
Once you get a result then try to improve on your conversion rate.
Remember there is no failure … only RESULTS!
4. The Cardinal Sin 
NO MORE GUESSING!
No more "I think my business comes from here."
Always Track, Measure and Know!
Elevate your business and stand out from your competition by knowing (not guessing) how your business is operating.
Like these tips? Think coaching could help your business?