WELCOME TO THE TOM FERRY RESULTS APP
***Exclusively  for Tom Ferry Coaching Members***
To get the most out of the App please review this document in full and use the App daily.
It's recommended that you use the App every day as an extension to your one-on-one coaching sessions to help you achieve your goals faster. 
If at any point you have questions, contact App Support at 888-866-3377, Option 4 or email AppSupport@tomferry.com.
---
****Initial Setup***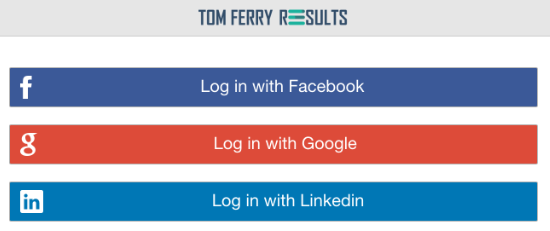 ***Log In Email***
To login, choose the social platform that shares the same email that you have on file with TFYC.
Login using your email and password.
The email associated with the social platform you choose for log in MUST match what is included in the Tom Ferry system.
To update your Email, Call Us at 888-866-3377, Option 4 or email AppSupport@tomferry.com.
Profile: Complete your profile so agents can contact you with referrals.
Photo: A picture's worth a thousand words.

Email: Make sure what you enter here matches your social login email. This is how agents will contact you regarding referrals and interest in your listing.

Phone: Include where you want agents to call you for referrals

Language: Include the languages you speak. This is a search option for referrals.

Gender: This is a search option for referrals.
Client %: This is where you enter your business breakdown. What you choose determines what activity choices show on your dashboard. These must add up to 100%.
Buyers

Sellers

Lessors

Lessees
YTD Results: Enter results that you have achieved before using the App so that the App can aggregate accurate numbers for you.
Goals: Set up your annual goals
Your Income Goal

Your Market- Average sales price and average commission percentage

Your Work Habits
Service Areas: This is where you select the cities you sell in.
Include ALL the areas that you service so people can find you to assign referrals.

Enter by city name, one by one.

Also separately enter in all of our zip codes.

Search by entering the city name or Zip in the search bar.
---
***Overview***
Set Your Goals: By setting your goals the App can tell you how many activities you need to perform daily/weekly/monthly to achieve your goals.
Track Activities: Think conversations, appointments, listings, transactions and hour of power. The App even allows you to track activities by client type (seller, buyer, lessor, lessee)
Monitor Your Production: The top of the dashboard gives you an at-a-glance glimpse of your Annual Production – transactions, volume and GCI.
Promote Your Listings: The App allows you to promote your listings within the exclusive community. This functionality is sure to give you a leg up on your competition in your listing presentation!
Referrals: Receive and send referrals directly within the App. The App gives you the ability to search amongst coaching community members and send referral opportunities all from your phone.
Conference Calls: Register for upcoming conference calls and listen to past calls as well as the #TomFerryShow podcast.
---
***Dashboard and Tracking***
Your REsults Dashboard provides you with:
At-A-Glance view of your Annual Production (Transactions, Sales Volume, GCI)

Hour of Power tracking

Your Activities: open each category to enter an activity by client type.  Use the "+" to add and pencil to edit

Conversations

Appointments

Listings

Transactions
---
***Listings***
Sharing your listings inside of our exclusive community gives you another marketing advantage to share in your listing presentation.  Listings will be shown for 90-days.
How to Add a Listing:
Click on Listings

Choose "+" to enter:

With MLS, enter:

The MLS- (The address will populate)

Property Type

Source

List Price

Picture (optional)

Website (optional) link to your listing page

A link to the Zillow Page will also be provided

Without MLS, enter:

Address

Property Type

List Price

Picture (optional)

Website (optional) link to your listing page

Click ADD
How to View a Listing:
Search by:

City or Zip

Property Type

Low Price

High Price

Contact the listing agent by clicking the call or Email button
---
***Transactions***
How to Create a Seller/Lessor Transaction
Create or convert a listing (see Listing video on how to create listing)

Add pending and include:

Sales price

Commission earned

Close date

Sold
How to Create a Buyer/Lessee Transaction
Add transaction

Type   

Source

Short description

Sales price

Commission earned

Close date

Add as either Pending or Sold

Pending transactions will show up under the pending tab in transactions

Convert pending

To sold

To fell out

Or you can update the transaction
---
***Referrals***
How to Create a Referral
Enter:

City

Name: ex: Smith's Beach House

Type: ex: Seller

Property Type

Agent Language Preference (optional)

Agent Gender (optional)

A short description that will be shared with the referred agent

Choose an agent from the list of available agents

The App will send a notification to the member

You can also email or call the member from the App to let them know of the referral opportunity (recommended)

You will receive a notification inside your App when the member accepts or denies the referral
How to Receive a Referral
A notification will appear on your Listing/Referral icon inside the App if someone sends you a referral
How to Complete a Referral
If you have accepted a referral and it closes, be sure to go back and complete it inside of your REsults app

Active referrals

In contract

Closed

Sale price

GCI

Referral fee

Close it
---
***Conference Calls***
How to Register for Upcoming Conference Calls
RSVP

An email will be sent to the email account on file with call in details

Reminder emails will be sent

24 HRs prior to call

1 HR prior to call

Any changes to the call such as time or date, there will be a notification as well
How to Listen to Past Calls
Make sure the phone is not on mute

Simply tap LISTEN to play the recording!
---
***Roleplays***
How to Create a Roleplay
Enter

Topic

Time and Date

A Short Description for Your Roleplay (optional)
How to Search for an Open Roleplay
Search by a specific topic or search all topics

Choose a start Date and Time

Choose an end Date and Time

Select the desired Roleplay

Select Participate
How to Complete/Retract a Roleplay
Complete a Roleplay

Navigate to the Activate Roleplay section

Find a pending completion Roleplay marked by a "!"

Select complete

Retract/Remove/Withdraw a Roleplay

Navigate to the Activate Roleplay section

Select the Roleplay you wish to remove

Select "Withdraw", "Delete", or "Retract"

*NOTE*- if you are withdrawing from a Roleplay that you are a participant in the other party will be notified
---
***Frequently Asked Questions***
***If you have any questions contact App Support by calling 888-866-3377 Option 4 or by Email at AppSupport@TomFerry.com***
Remember Always … Your Strategy Matters and Passion Rules!