Member Spotlight: #CrushQ4 Contest Winners [Part Two]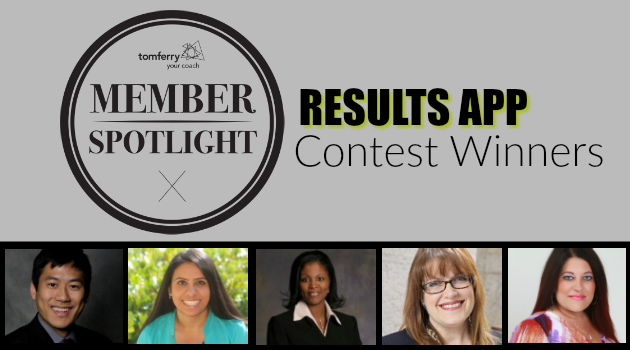 Welcome to Part Two of our special two-part Member Spotlight!
In Part One, we introduced you to the winners of our 2015 #CrushQ4 REsults App Contest.
These members used the Tom Ferry REsults App to track their conversations and the top 5 won a trip to Palm Springs to our Elite+ Inner Circle Event (including airfare and hotel), two free coaching sessions, and lunch with Tom.
In Part Two, the winners share even more details about how the app helped to track activities, how it increased their bottom line, and tips for our fellow TFYC coaching members who want to maximize their business with the REsults App.
Make sure to read to the end to find out more about our new REsults App Contest for March!
Explain how the app helped you track your activities and kept you motivated.
William: The app was simple and that's a good thing. I was tracking my conversations on paper and whenever I had a chance, I would input those numbers into the app. On those days when I didn't feel like calling, I just remembered that I was going to have to put numbers into the app so that motivated me to call.
Haneen: Seeing the numbers daily, weekly and quarterly kept me motivated throughout the quarter. Also it's a great way to measure daily prospecting activities. I personally kept the app open the whole time I was prospecting and added the number of calls/ interaction throughout the hours of power. It was so empowering seeing the number grow at the end of the day specially the quarterly and weekly numbers. At the beginning of each week I would look at the previous week's number and try to beat it, which was very motivating and helped me keep sight of the big picture.
Carol: Tracking my numbers is a way to see that I need to do more, and not blindly guessing where I am.  When I can actually look at my numbers it helps me stay focused, track and to see what's working for me.
Dawn: I started using the app and it was fun to track. It took me awhile to get used to it! I would only look at each day's results, so I would stay focused on what needed to be done that day.
Gina: The app is so awesome because it is so simple to use but allows you to really track and measure everything that you are doing and to see if you are on point with your goals or if you need to make some modifications or adjustments to what you are doing on a daily basis.
What were your business numbers before the contest? After?
William: If my numbers were X before the contest, they're at least 3X after. Real estate is a numbers game.
Haneen: Business numbers before: I had $18M in sales. After the contest: I had $28M in sales.
Carol: After consistently tracking my numbers in the last quarter I saw a significant increase in my leads, conversion, and new clients.
Dawn: Oh my gosh – I was so blessed by the whole process. This year looks AMAZING because of the last quarter! I sold 9M last year and I've already sold 1.5M in a MONTH because of this contest!
Gina: Before the contest I had sold on average 2 homes a month and now I am set to close 4 or more homes a month going forward.
What advice do you have for others about the benefits of using the REsults app?
William: If you aren't tracking yourself in one way or another, start. I know when I bring my sellers multiple offers or need to justify a price reduction for an almost-sale listing, the marketing data I've tracked is a huge help in explaining things. The REsults app is great in that it allows you to visualize how the little things you do every day add up in a big, big way.
Haneen: Consistency, integration, and competition. Make it part of your business, the app makes it easier to track and measure your daily prospecting and a bit of competition with fellow app users doesn't hurt. Form a group and set goals to be reached using the result app. And, of course, Referrals. Last year I closed 3 transactions that came as a result of being part of TF coaching clients.
Carol: My advice to anyone not using the app is to simply use it.  Before the contest I tracked my numbers sparingly, and it showed.  I find that by tracking my numbers consistently I stayed in conversation with more people, and the more conversations I have always results in more appointments.  We all know what more appointments lead to, more contracts.
Dawn: I like this app, and I appreciate the effort by TFYC to keep improving it, and listening to suggestions. We will be adding a broadcast of voicemails this month, and the app will be open all the time for tracking.
Gina: I would suggest that anyone who is serious about their business use this app in order to track and measure all of your activities especially your money making activities (phone calls/appointments). I am used to filling out spreadsheets for all of my activities/numbers and using the app takes much less time but provides you with all of the information to have a snapshot of your business at a glance. It saves me time and I look at it a few times a day just to keep my businesses activities at the top of my mind.
Anything else you'd like to add?
William: Treat people like you'd want to be treated. This is a people business. Be honest and listen to the people you talk to. A number of the people I spoke with on the phone had already been harassed by dozens of cold callers. They said it was really refreshing how I treated them gently and listened to their problems while offering solutions. I actually got some appointments from these consumers who had started the call in a very hostile tone! Treat people well and they'll treat you well.
Haneen: Coaching became a vital part of my business. I'm so blessed to be part of this elite group of professionals that brainstorm, seek advice, and solve business problems on a daily basis. It's so refreshing to be surrounded by like-minded people who want to grow their business and care about each other's success!
Carol: I'd like to add, that I love challenges and if anyone is up for another challenge you know how to reach me!
Dawn: If you are having a hard time tracking your results, the app is a good way to start. I look at it every day for referrals.
Gina: This contest forced me outside of my comfort zone to make the calls that I was apprehensive to make. It actually started becoming fun calling everyone. My momentum started to shift as I started talking to people that were interested in either buying or selling. I could feel the positive shift and things really started happening. I had more appointments, more listings and more buyers. I also set daily goals on how many appointments I can book during the week, which in turn increased how many appointments I was scheduling. One day I called a lead that I had not spoken to previously but was a warm lead. The day I called her she said I was praying that if it was meant for me to sell my investment property & home that someone would call me and she said thank you for calling me today my angel. I am in the process of selling her investment property at this time. That was the most amazing call so far!! I am hoping to have many more in the futur
e.
Congratulations to our REsults App Contest Winners!
Are YOU ready to uplevel your business with the app?
Introducing: March Madness REsults App Contest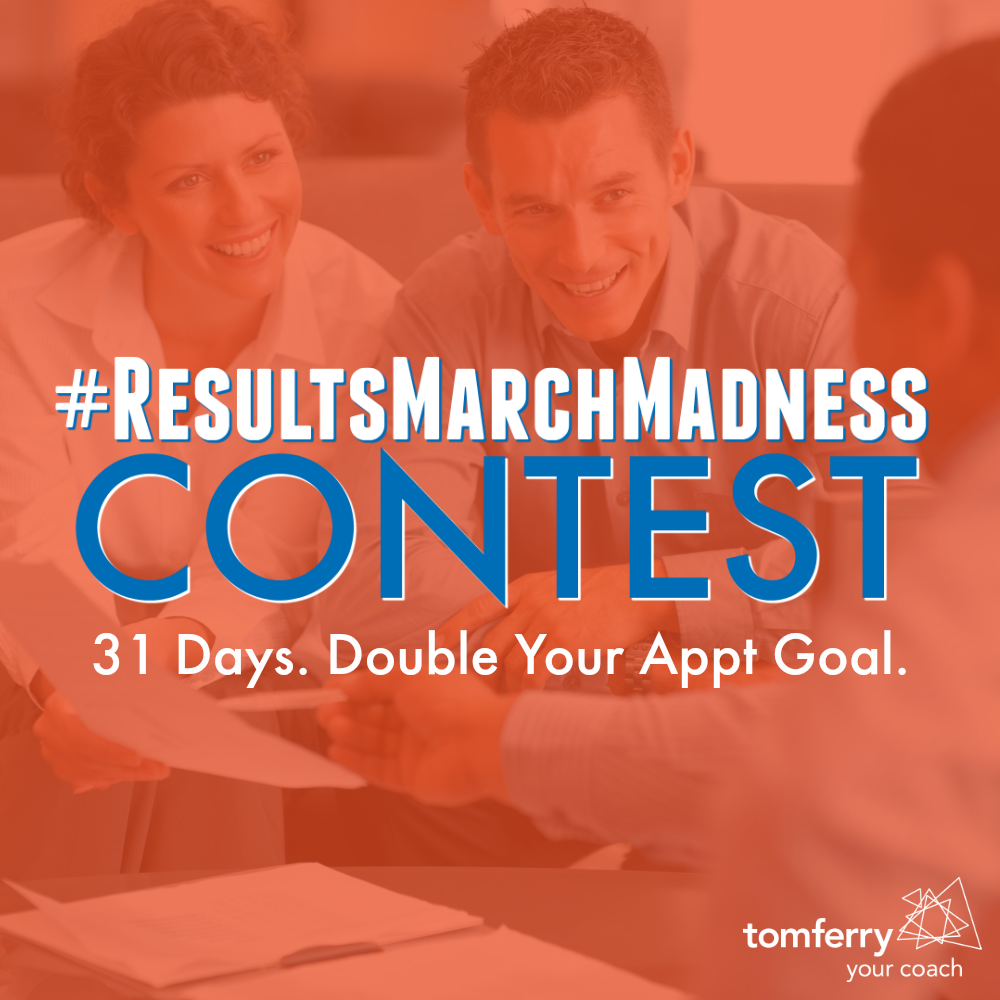 Get ready for the Spring season by getting more appointments in the books than you ever have before in a month and WIN an awesome PRIZE! Follow these simple steps to enter:
1. Set as many appointments as you can during Mar 1 – 31
2. Track all your appointments in the REsults App
3. Achieve 200% of your already established monthly appt goal as noted in the REsults App
4. Be one of 5 winners selected at random from those who achieved the goal
5. WIN up front seating at your next Sales Edge seminar!
To share your own testimonial, click here.
Not a Tom Ferry coaching member yet? If you're ready to take your business to the next level and have your Best Year Ever, sign up for a complimentary coaching consultation to see what coaching can do for your business.
---